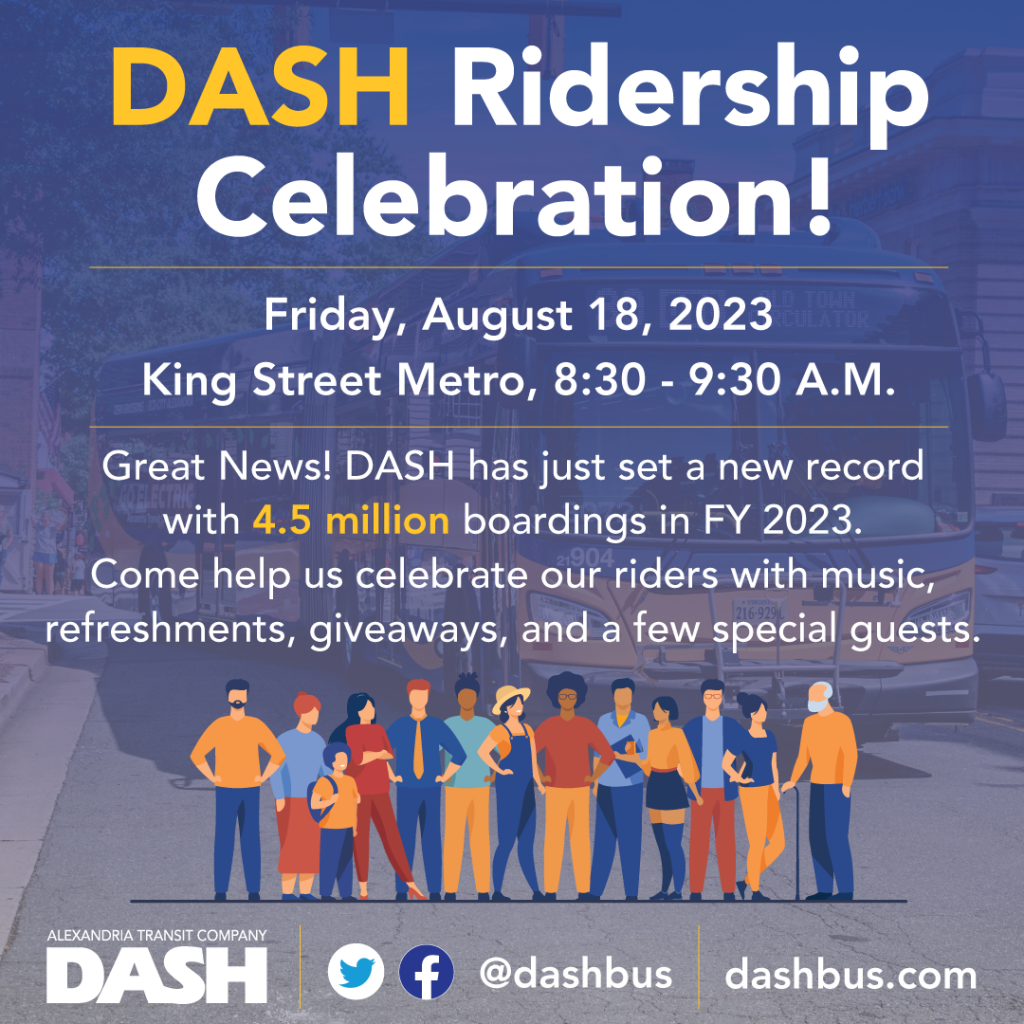 For the first time in its 39-year history, the Alexandria Transit Company (DASH) has recorded more than 4.5 million boardings in a single year.  To celebrate this milestone and thank our loyal customers, DASH will host a rider celebration event on the morning of Friday, August 18 at the King Street-Old Town Metrorail Station.  The event will begin at 8:30 AM and will feature remarks from DASH and City officials, music, refreshments, and DASH giveaways.
"This ridership record represents a remarkable milestone for DASH in our nearly four decades of providing public bus transit service in the City of Alexandria," said Josh Baker, DASH's CEO/General Manager.
"We want to take this opportunity to celebrate with the Alexandria community, and to thank our riders for their loyalty in helping DASH to navigate the many unprecedented challenges and changes of the last few years."
Since the launch of the fare-free New DASH Network in September 2021, DASH has seen unprecedented ridership growth that helped it become the first transit agency in the region to return to pre-pandemic ridership levels.  In the last year, DASH ridership has continued its meteoric rise with the 451,000 passenger boardings recorded in April 2023 representing the highest ridership total for a single month in agency history. Today, DASH carries more than 15,000 boardings on a typical weekday and 7,000 to 10,000 boardings on Saturdays and Sundays. The 4.5 million total boardings in fiscal year 2023 eclipsed the previous record of 4.3 million in fiscal year 2015.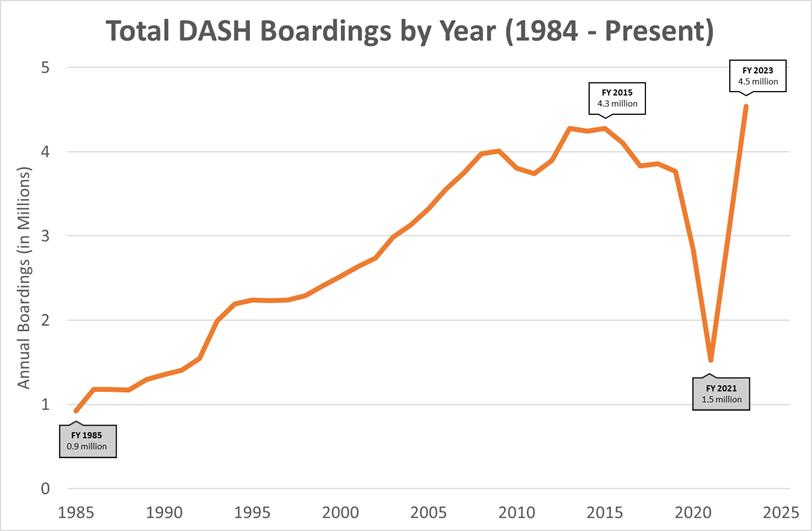 "As we celebrate this achievement, we are especially proud of the positive impact that our recent service and fare changes are having on the Alexandria community," noted Martin Barna, DASH Director of Planning & Marketing.
"Each of these 4.5 million boardings represents a neighbor, coworker or a family empowered to use public transportation to get to work, school, medical appointments, shopping or social outings.  Our New DASH Network with more frequent, all-day service and the free fares program are making transit a relevant travel option for more travelers, removing traffic from our roads, and improving overall quality of life for the entire city."
Leading up to the celebration, DASH is asking riders to share their personal #DASHStory via email or social media about why they use DASH or how it makes a difference in their daily lives. All entries will be eligible for a chance to win a $50 gift card and selected entries will be highlighted in future DASH promotions, including the ridership celebration event on August 18.
To participate, riders should share their #DASHStory with on Facebook, Twitter, or Instagram, or send an email to dashbus@alexandriava.gov with "DASH Story" in the subject line. All entries must be submitted by Friday, August 4.